How to claim items from my CBT Pack/Twitch Drops?
First of all, items from CBT Packs and Twitch Drops are stored in the web Inventory, which can be found on the following page: https://worldwar3.com/inventory.
From there, you can transfer the items into the game - simply select items you want to be transferred by clicking on them, and then confirm your choice by clicking the "Transfer" and then "Confirm transfer" buttons.
For more detail, please go here: https://worldwar3.com/en/news/23-inventory-and-item-transfers-all-you-need-to-know.
When I try to transfer items into the game, I receive a message "You do not have a character".
If you see this message while already having progress in-game, this situation can arise if you are logged into an account that is different from the one that you are using to play the game.
The most important point here: when you use different authorization methods, they create different MY.GAMES accounts.
For example, if you are playing the game from Steam, you always need to use the Steam authorization button in order to log into your account on the website: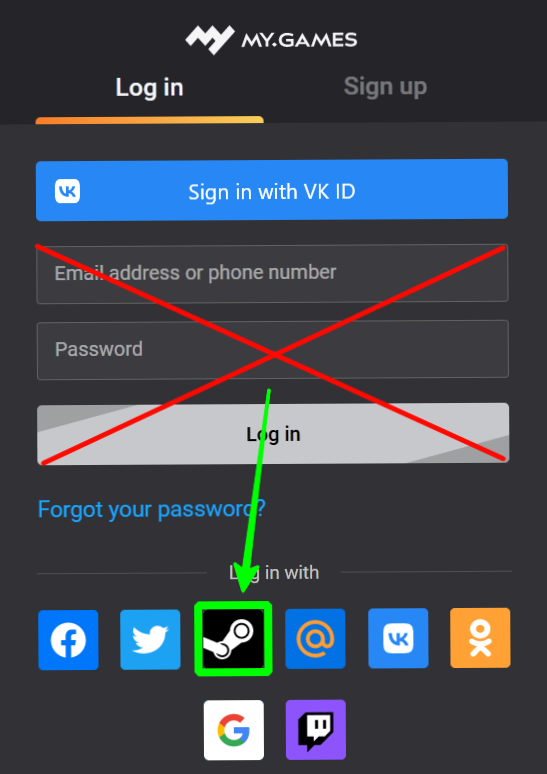 Similarly, if you have used the Google/Twitch/Twitter/Facebook authorization icon when creating your account, you will always have to use the same icon to log into your account - both in the game's launcher and on the website.
Even if you will try to use the same email address that you use to enter your Steam/Twitch/Facebook/Twitter/Google mail service by typing them in the crossed section from the screenshot, you will create an account that is different from the ones that are created when you use the authorization icons below.